Sports are a great way to keep kids health and fit but just like knowing the rules for the game, safety strategies should be a part of the plan for athletes, parents and coaches. We have a wide array of sport safety materials geared at keeping athletes safe and "in the game".
Concussion Resources:
Dehydration Resources:
Overuse Injury Resources:
General Sports Safety Resources:
Coaches Clinics
Recently, Safe Kids Grand Forks launched a spring and fall Coaches Clinic that helps coaches at all levels meet their training needs for North Dakota and Minnesota coach's requirements. These clinics take place on a Saturday and include both keynote and breakout sessions (CPR is routinely offered since that is a requirement for a coach's certificate). The Coaches Clinics do require registration at least 1 week prior to the event.
Coaches Training
Safe Kids Grand Forks understands the need for coaches to be trained in sports safety topics, just as much as they need to know how to teach kids the plays and skills of the game. We offer group coaches training (free of charge) to any high school, middle school, private league, park board or traveling team that is interested. We provide education on the following topics and can adapt the training as needed by the coaches:

Concussion awareness (including signs and symptoms and recommendations for play)
Return to play guidelines following a concussion
IMPACT testing – what it is, who should be tested and resources for those not tested in their school setting/program
Hydration Considerations (including signs and symptoms of dehydration, fluid requirements and best fluids for rehydrating)
Overuse Injuries
General sports safety (emergency procedures on and off the field, first aid, equipment considerations, etc.)

To set up a training visit for coaches and/or athlete, please contact Safe Kids Grand Forks.

While available, we are able to offer each coach that completes our "Get In the Game Coaches Training" with a clipboard containing the signs and symptoms of concussions and dehydration (including recommendations for these conditions), a bag tag with concussion/hydration information (as seen below) and water bottles (disposable or reusable) for their athletes.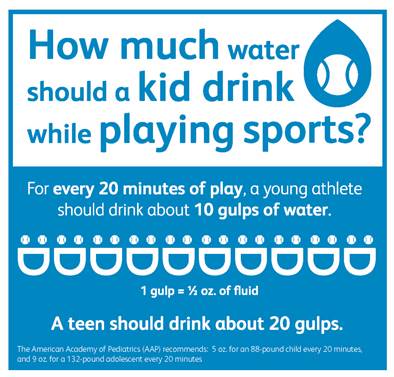 We are grateful to our partners at the Sunshine Memorial Foundation for their support of our hydration messaging.
Altru Health System Sports Medicine Program & Services
Athletic Performance Camps beginning in January 2015. Train with the best!

This eight-week program offers focused training in speed, strength, conditioning and agility. Our multi-disciplinary approach fits the needs of athletes of all sports, focusing on fundamental training principles.

Program Details:
» Mobility
» Injury Prevention
» Linear/lateral speed development
» Power and strength development
» High intensity conditioning